Gold Listings' Content
All content automatically fetched by our spider
Categories
New listings
England (2365)
Scotland (126)
Wales (28)
Northern Ireland (6)
United States (93)
Canada (6)
Australia (84)
New Zealand (11)
Other Countries (56)
Catering and Special Events (211)
General Food and Drink (287)
Number of listings removed from our directory since 1st November 2019 =
351
Minnesota's Marvelous Craft Beer Scene: A Gateway to Flavor Town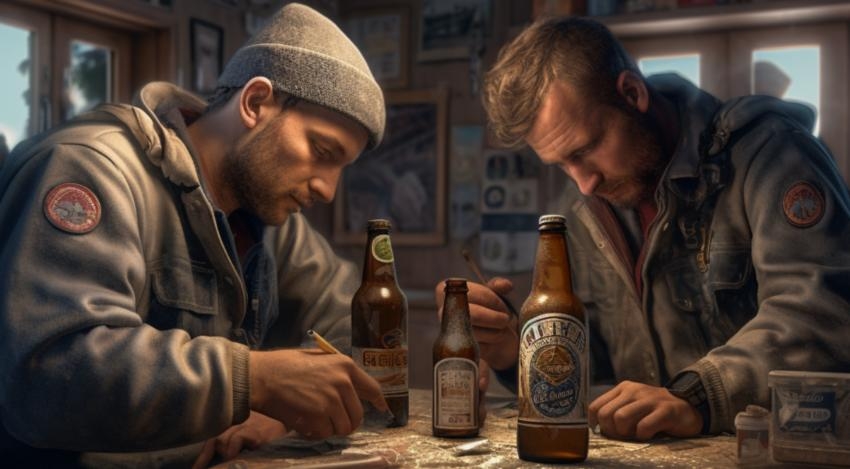 As I wandered the streets of the Land of 10,000 Lakes, I was struck by the sense of community and togetherness that Minnesotans radiated. This Midwestern state is a treasure trove of superb eateries, illustrious watering holes, and delightful entertainment options. Minnesota embraces the craft beer movement, a unique aspect of the food and drink industry that has taken the state by storm. The significance of the craft beer scene in Minnesota is astounding, a pillar of the food and drink industry that fosters camaraderie and appreciation for quality beverages amongst its residents.
The Birth of a Craft Beer Movement
Minnesota's craft beer renaissance has its roots in the early 1980s when Summit Brewing Company, a pioneer in the local craft brewing industry, opened its doors. Since then, the number of craft breweries in the state has grown exponentially, with an estimated 200 breweries and brewpubs operating across its vast expanse. This explosion of microbreweries has cemented Minnesota's reputation as a thriving hub for craft beer enthusiasts and producers alike, offering a diverse array of styles and flavors to satiate even the most discerning palates.
Notable Minnesotan Breweries
As a connoisseur of fine ales and lagers, I could not help but be impressed by the caliber of breweries in the region. Among the most notable of these establishments are the aforementioned Summit Brewing Company, Surly Brewing Company, and the up-and-coming Modist Brewing Company. Each boasts its own unique approach to the art of brewing, ensuring that the people of Minnesota are never far from a delicious pint.
Summit Brewing Company: As Minnesota's oldest surviving craft brewery, Summit has established itself as a cornerstone of the state's beer scene. Its Extra Pale Ale remains a local favorite, while its seasonal offerings, such as the Oktoberfest and Winter Ale, ensure that there is always something new and exciting to try.
Surly Brewing Company: Known for its aggressive and innovative brews, Surly has become synonymous with quality and creativity in Minnesota. Its flagship beer, Furious, is a deliciously hoppy IPA that has won the hearts and taste buds of many, while its seasonal offerings and limited releases are consistently met with great anticipation.
Modist Brewing Company: As one of the newer additions to the Minnesota craft beer scene, Modist has quickly gained a reputation for pushing the boundaries of brewing. Its imaginative and unconventional offerings, such as the First Call Cold Press Coffee Lager and the Inda Couch Oat Milk Stout, have garnered the brewery a dedicated and passionate following.
The Craft Beer Lifestyle
Beyond simply the enjoyment of excellent brews, Minnesota's craft beer scene has fostered a lifestyle and sense of community that is truly unparalleled. Craft beer enthusiasts in Minnesota are passionate about supporting local businesses, exploring new flavors, and engaging in lively conversation with fellow aficionados at tasting events and brewery tours. Moreover, the microbreweries themselves often partner with local food trucks and restaurants to provide patrons with delicious and complementary dining options. This spirit of collaboration and support for local business has been the bedrock of Minnesota's craft beer scene since its inception.
Minnesota Craft Beer Week
No discussion of the state's craft beer movement would be complete without mentioning Minnesota Craft Beer Week. A week-long celebration of all things beer-related, this annual event highlights the vast array of breweries and styles available across the state through a variety of special releases, tap takeovers, and other events. Attendees can expect to discover rare and limited-edition brews, engage in beer-themed trivia nights and bingo games, and savor expertly crafted beer and food pairings. This event serves as the perfect opportunity for both seasoned craft beer enthusiasts and curious newcomers to immerse themselves in the dynamic and ever-evolving world of Minnesota's craft beer scene.
A Toast to Minnesota's Craft Beer Scene
In conclusion, it is evident that Minnesota's craft beer scene has blossomed into a vibrant and vital component of the state's food and drink industry. The dedication and passion of the region's brewers, combined with the unwavering support of the local community, have truly created a beer lover's paradise in the heart of the Midwest. So, the next time you find yourself in the Land of 10,000 Lakes, be sure to raise a pint in honor of Minnesota's marvelous craft beer scene. Cheers!