Number of listings removed from our directory since 1st November 2019 =
321
Canterbury's Craft Beer Renaissance: A Hoppy Adventure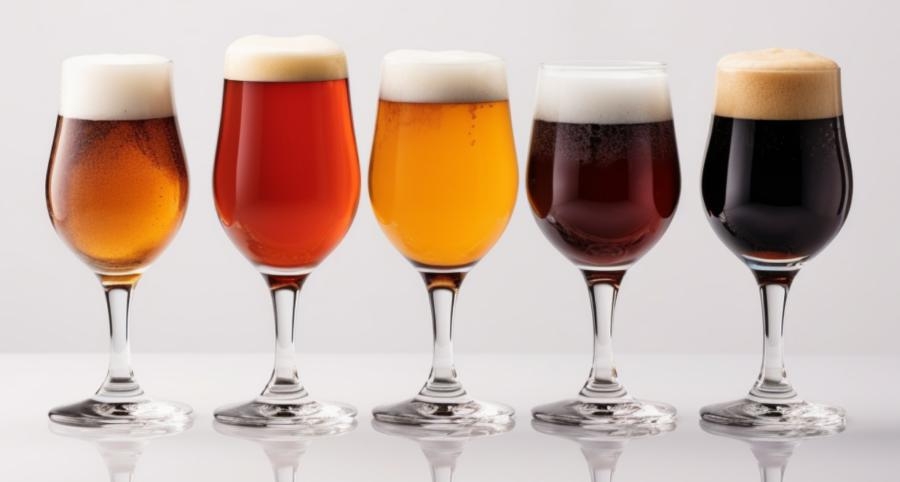 Ah, Canterbury, the land of picturesque landscapes, charming architecture and, of course, some of the finest watering holes this side of Middle Earth. But today, we will not dwell on the mere beauty of this region; we are here for the nectar of the gods themselves – no, not wine, but the ever-growing trend of craft beer. Join me as we delve into this effervescent wonderland, and perhaps, find a new favorite tipple along the way.
A Frothy Beginnings: The Rise of Craft Beer
Once upon a time, the beer-drinking masses of New Zealand were content with their tried and true brews – think Tui, Speights, and Lion Red. However, like a phoenix rising from the ashes (or perhaps more accurately, the frothy remnants of a spilled pint), the craft beer revolution swept through the nation, leaving a trail of hoppy, malty goodness in its wake. Now, Canterbury is no exception to this delightful phenomenon, boasting a plethora of pubs, bars, and breweries certain to satiate the most discerning beer connoisseur.
Hop to It: Breweries You Can't Miss
In this fair region, there is no shortage of breweries producing delectable craft brews. Here are a few that you simply must try:
The Laboratory: A brewpub located in the heart of Lincoln, The Laboratory boasts a mouthwatering selection of beers, all brewed on-site. And if you're in need of a bite to eat, their menu features delicious, locally-sourced dishes that pair perfectly with their brews. Science never tasted so good!
Two Thumb Brewing Company: Located in the heart of Christchurch, this brewery produces a diverse range of beers, from classic IPAs to more adventurous brews such as their "Chocolate Milk Stout" – a must-try for those with a sweet tooth. They also offer brewery tours, so you can see firsthand how their liquid gold is crafted.
Brewhaus: Nestled in the stunning Lyttelton Harbor, Brewhaus offers a selection of craft beers brewed and bottled on-site. Soak in the stunning views as you sip on one of their delightful brews, such as the "Red Llama" or the "Funky Friday." If you're lucky, you might even catch a live music performance!
From Brews to Eats: Pairing Your Beer with Food
A wise person (or perhaps, a slightly inebriated one) once said that "beer is proof that God loves us and wants us to be happy." But what is a cold, refreshing pint without a scrumptious meal to accompany it? Fear not, for the establishments of Canterbury have risen to the challenge, offering up a host of dishes that will have your taste buds singing in perfect harmony with your brew. For instance, the aforementioned Laboratory offers specialty pizzas designed to complement their beers, such as a smoked salmon and caper pizza that pairs well with a light, crisp pilsner. Meanwhile, Two Thumb Brewing Company's taproom, The Beer Library, offers a curated selection of cheeses and charcuterie to accompany their brews.
Embracing the Craft Beer Community
Now that you've had a taste (both literally and figuratively) of the craft beer scene in Canterbury, it's time to dive in and immerse yourself in this effervescent community. Luckily, there are plenty of events and gatherings to help you do just that:
Beer Festivals: Canterbury boasts a number of beer festivals throughout the year, such as the Great Kiwi Beer Festival and the South Island Beer Festival. These events offer a fantastic opportunity to sample a wide variety of brews, chat with fellow beer enthusiasts and even attend workshops to learn about the brewing process.
Meet the Brewer Nights: Many breweries and bars in Canterbury host "Meet the Brewer" nights, where patrons can chat with the very people who craft their favorite beers and learn about the inspiration and process behind their brews. Keep an eye on your favorite establishments' event calendars for these opportunities.
Beer Tasting Clubs: For those who are truly passionate about craft beer and eager to learn more, joining a beer tasting club is an excellent way to further your education (and your palate). There are several clubs in Canterbury, such as the Christchurch Beer Tasting Club, that host regular tastings and discussions on various aspects of beer.
As you can see, Canterbury is a veritable utopia for craft beer enthusiasts, offering an ever-expanding array of brews to explore, mouthwatering food pairings and a vibrant, welcoming community. So, I encourage you to raise a glass, take a sip, and toast to the hoppy adventure that awaits you in this glorious region. Cheers!