Number of listings removed from our directory since 1st November 2019 =
321
A Boisterous Ode to Oregon's Pubs and Culinary Delights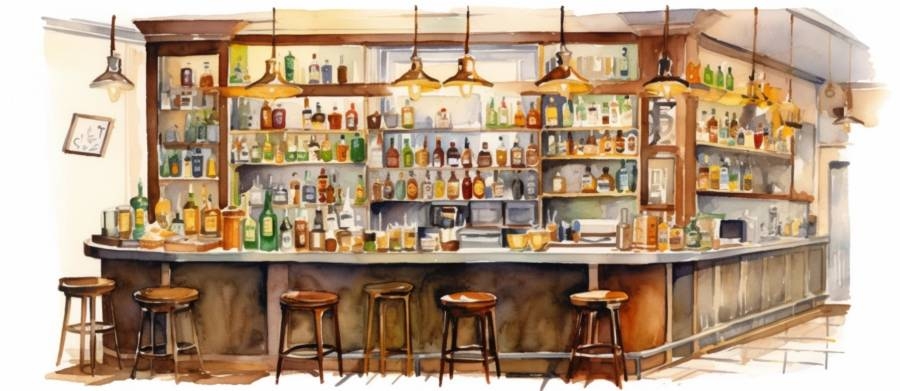 One could easily spend a lifetime meandering through Oregon's lush landscapes, sampling the myriad of gastronomic delights and libations ensconced within its many pubs and restaurants. So why not join me, dear reader, as we embark upon a wild, albeit brief, adventure through the Beaver State's most notable gustatory offerings. From Portland to Medford, I shall regale you with tales of culinary intrigue and intoxicating elixirs.
Portland: A Gastro-Pub Haven
Let us begin our journey in Portland, a city which has long embraced the concept of the gastro-pub with open arms and open mouths. Here, you will find an array of establishments that seamlessly blend the art of craft brewing with tantalizing cuisine. Whether you prefer a rustic alehouse or a refined eatery, Portland's gastro-pubs offer a remarkable fusion of flavors that are as diverse as the city itself.
Deschutes Brewery Portland Public House: This popular spot offers a wide selection of experimental beers crafted exclusively for the Portland outpost. Pair your chosen brew with their elk burger or perhaps their famed beer cheese soup, a dish that will delight your tastebuds with its rich concoction of sharp white cheddar, shallots, garlic, and, of course, Deschutes's own Black Butte Porter.
Laurelhurst Market: If you're in search of a more carnivorous experience, look no further than Laurelhurst Market. Part butcher shop, part restaurant, this establishment revels in its mastery of all things meat. Choose from an array of charcuterie options or indulge in their delectable steak offerings, all while sipping on a perfectly paired glass of wine or cocktail.
Tin Shed Garden Cafe: For those seeking a more vegetable-forward repast, the Tin Shed Garden Cafe offers an eclectic array of dishes that cater to both carnivores and herbivores alike. Enjoy their savory Thai curry bowl or perhaps their mouth-watering "Salamigeddon" sandwich, a heavenly medley of Italian cured meats and mozzarella. And no visit to Tin Shed would be complete without a pint from their superb selection of local craft beers.
Eugene: A Microcosm of Culinary Creativity
Our next stop brings us to Eugene, a veritable hotbed of culinary innovation. With its vibrant food scene and passion for locally sourced ingredients, Eugene offers an abundance of dining establishments that will satiate even the most discerning palate.
Off The Waffle: The humble waffle is transformed into a work of art at this quirky eatery. Enjoy a waffle topped with brie, apple slices, and maple syrup, or perhaps one crowned with smoked salmon, crème fraîche, and capers. And for those who enjoy a bit of whimsy in their dining experience, Off The Waffle offers a waffle interpretation of the beloved PB&J sandwich, complete with hazelnut spread, raspberry jam, and whipped cream.
The Cannery: This gastropub offers an impressive array of traditional pub fare with a modern twist. Feast upon their delectable lamb sliders or perhaps their curry-spiked clam chowder, all while quaffing a pint from their equally impressive selection of craft beers.
Cornbread Café: This cozy establishment offers a menu of vegan comfort food that will leave you wondering why you ever bothered with animal products in the first place. From their decadent tempeh reuben to their scrumptious mac uncheese, the Cornbread Café is a haven for those seeking a plant-based culinary adventure.
Medford: A Celebration of Wine and Dine
Our final destination brings us to the idyllic enclave of Medford, nestled within the heart of Oregon's wine country. As one might expect, the city's dining establishments pay homage to the region's viticultural prowess, offering menus that expertly pair the area's finest wines with dishes that showcase the bounty of local ingredients.
Larks Home Kitchen Cuisine: Located within the historic Ashland Springs Hotel, Larks offers a menu of farm-to-table dishes that celebrate the region's agricultural abundance. Savor their sumptuous duck confit or perhaps their melt-in-your-mouth braised short ribs, all while sipping on a glass of one of the Rogue Valley's finest wines.
The Rogue Grape: This wine bar and restaurant offers a curated selection of local wines, beers, and ciders, alongside a menu of seasonal dishes that are designed to complement the beverages on offer. Enjoy a leisurely afternoon sampling their various charcuterie offerings or perhaps indulge in their succulent lamb ragu.
Elements: This tapas bar and lounge offers an array of small plates that showcase the best of Oregon's culinary landscape. From their luscious Dungeness crab cakes to their exquisite lamb meatballs, each dish at Elements is a testament to the skill of the chefs and the quality of the ingredients they use.
As our brief sojourn through Oregon's pubs, restaurants, and entertainment options comes to an end, it is my hope that you have been inspired to venture forth and explore the many gustatory delights that the state has to offer. Whether you fancy yourself a connoisseur of craft beer or a devotee of fine wine, a carnivore or a herbivore, Oregon's dining scene truly has something for everyone. So go forth, my fellow epicureans, and let your taste buds be your guide.